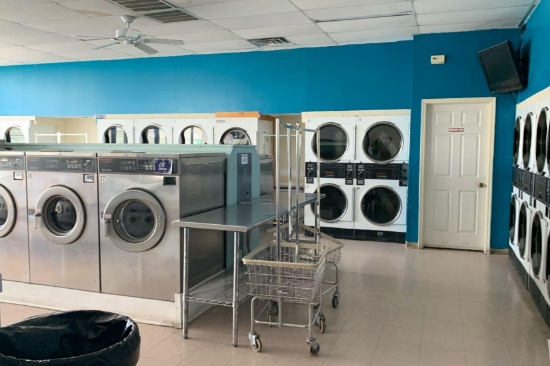 LAUNDRYVILLE LAUNDROMAT COMPLETE BUSINESS AUCTION
Internet Premium:
15%
See Special Terms for additional fees
Description
Laundry Ville is a complete laundromat, with plumbing, furnishings, fixtures and equipment in place. A buyer who will take over the business in its current location is preferred, but not mandatory.

LaundryVille is a complete neighborhood Laundromat that has been in operation until recently. All assets of this company will sell at auction, and the lease option for the existing space is available.

The following assets are included in the sale. These units are all as is and some will need repair.

Asset List: 
5-Channel Security Camera System
(1) Hot Water Boiler
(12) 30 lb Coin-Op Stack Dryers
(3) 55 lb Coin-Op Washers
(3) 40 lb Coin-OP Washers
(6) 30 lb Coin-Op Washers
(2) 10 lb Coin-Op Washers
(6) 20 lb Coin-Op Washers
(5) Top Load Coin-Op Washers
(1) Dual-Hopper Quarter Change Machine
(1) 6-Slot Coin-Op Soap Dispenser
(2) Electric Coin-Op Candy Machines
(1) 3-Slot Coin-Op Candy Dispenser
(1) Cold Soda Machine
(1) Coin Counter
(2) 32 in. Flat Screen TVs
(6) Stainless...
Show more
Show Less